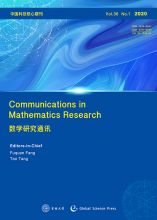 Communications in Mathematical Research
Editor-in-Chief
Fuquan Fang and Tao Tang
Managing Editors
Yanzhao Cao and Shaoyun Shi
Editorial Board
Aims and Scope
Communications in Mathematical Research (CMR) was established in 1985 by Jilin University, with the title Northeastern Mathematical Journal. Recently the journal was renamed to the current one and publishes articles written in English. In early 2020, a new editorial board is formed aiming to enhance the quality of the journal. CMR publishes original research and survey papers in major areas of mathematics, including pure mathematics, applied mathematics, computational mathematics, and statistics.
Impact Factor:
5-Year Impact Factor:
CiteScore:
The new editorial board of CMR is formed in January 2020, with new Editors-in-Chief Professor Fuquan Fang and Professor Tao Tang.

2019-11-22

Featured Articles more

Determination of Random Periodic Structures in Transverse Magnetic Polarization

by Gang Bao & Yiwen Lin, Commun. Math. Res., 37 (2021), pp. 271-296.

A Level Set Representation Method for $N$-Dimensional Convex Shape and Applications

by Lingfeng Li, Shousheng Luo, Xue-Cheng Tai & Jiang Yang, Commun. Math. Res., 37 (2021), pp. 180-208.

Concentration Inequalities for Statistical Inference

by Huiming Zhang & Songxi Chen, Commun. Math. Res., 37 (2021), pp. 1-85.