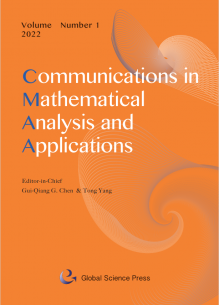 Communications in Mathematical Analysis and Applications
Electronic: 2790-1939
ISSN Print: 2790-1920
Aims and Scope
Communications in Mathematical Analysis and Applications (CMAA) publishes research papers relevant to mathematical analysis and its applications. CMAA publishes original research articles of high quality on a topic in Real and harmonic analysis, Complex analysis, Numerical analysis, Partial differential equations, Dynamical systems, Control and optimization, Probability, Mathematical biology, Statistics etc.
Impact Factor:
5-Year Impact Factor:
CiteScore:
CMAA's editorial board is formed in August 2021, and it will begin to publish papers in early 2022.