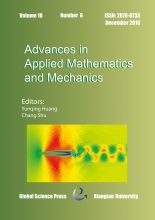 Advances in Applied Mathematics and Mechanics
Editors-in-Chief
Yunqing Huang and Chang Shu
Managing Editors
Jun Hu and Zhonghua Qiao
Editorial Board
Electronic: 2075-1354
ISSN Print: 2070-0733
Aims and Scope
Advances in Applied Mathematics and Mechanics (AAMM) provides a fast communication platform among researchers using mathematics as a tool for solving problems in mechanics and engineering, with particular emphasis in the integration of theory and applications. To cover as wide audiences as possible, abstract or axiomatic mathematics is not encouraged. Innovative numerical analysis, numerical methods, and interdisciplinary applications are particularly welcome.
Impact Factor:1.727
5-Year Impact Factor:1.427
CiteScore:2.70
AAMM's most recent SCI impact factor (2020) is 1.727. It is ranked #96 among the 265 applied mathematical journals.

Our Associate Editor Professor Xiyun Lu was elected as an Academician of the Chinese Academy of Sciences in 2019. Congratulations!

The new editorial board of AAMM is formed in April 2021.

AAMM was accepted by the Science Citation Index-Expanded (SCIE) in 2010.

Featured Articles more

Numerical Assessment of Criteria for Mesh Adaptation in the Finite Volume Solution of Shallow Water Equations

by Imad Kissami, Mohammed Seaid & Fayssal Benkhaldoun, Adv. Appl. Math. Mech., 12 (2020), pp. 503-526.

High-Order Accurate Entropy Stable Finite Difference Schemes for One- and Two-Dimensional Special Relativistic Hydrodynamics

by Junming Duan & Huazhong Tang, Adv. Appl. Math. Mech., 12 (2020), pp. 1-29.

Stability of Two Conservative, High-Order Fluid-Fluid Coupling Methods

by Jeffrey M. Connors & Robert D. Dolan, Adv. Appl. Math. Mech., 11 (2019), pp. 1287-1338.

Open Access Articles more

A Treecode Algorithm for 3D Stokeslets and Stresslets

Lei Wang, Svetlana Tlupova & Robert Krasny, Adv. Appl. Math. Mech., 11 (2019), pp. 737-756.

A Generalized Local Grid Refinement Approach for Modeling of Multi-Physicochemical Transports by Lattice Boltzmann Method

Amer Alizadeh & Moran Wang, Adv. Appl. Math. Mech., 11 (2019), pp. 312-337.

Numerical Investigation of Multiple Shock/Turbulent Flow Interaction in a Supersonic Channel

Peizhao Sun, Jiming Yang & Xiyun Lu, Adv. Appl. Math. Mech., 10 (2018), pp. 390-408.